Optimisation de la préparation d'échantillon et de l'analyse d'impuretés élémentaires dans des médicaments par ICP-MS
The pharmaceutical industry has a high level of quality assurance in product control to ensure the protection of public health. For metallic impurities, the ICHQ3D guide has selected 24 elemental impurities and their daily allowable doses. The American Pharmacopoeia recommends ICP-MS as an analytical technique. A drug for cardiovascular diseases was selected for optimization of the sample preparation step as well as for optimization of the analysis step to reach recovery rates required by ICHQ3D between 70 % and 150 %.
L'industrie pharmaceutique se situe à haut niveau d'assurance qualité dans le contrôle des produits afin d'assurer la protection de la santé publique. En ce qui concerne les impuretés métalliques, le guide ICHQ3D a sélectionné 24 impuretés élémentaires ainsi que leurs doses journalières permises. La pharmacopée Américaine recommande l'ICP-MS comme technique d'analyse. Un médicament pour les maladies cardiovasculaires a été sélectionné pour l'optimisation de l'étape de la préparation de l'échantillon ainsi que pour l'optimisation de l'étape de l'analyse pour atteindre des taux de recouvrement exigé par l'ICHQ3D entre 70 % et 150 % .
Fichier principal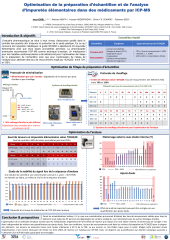 Poster Ines KORBI .pdf (1.72 Mo)
Télécharger le fichier
Origin : Files produced by the author(s)